Why you should care
Because somehow, this combo works.
We're throwing fashion rules out the window: it's time to unlearn the sock with sandal or heel faux pas.
As temperatures are slowly dropping, we're getting tired of wearing the same old, same old boots. It's time to pick up this eye-catching, fun, and cosy trend and make it your fashion staple this season.
If you're a wary first-timer, then use these tips:
The key to pulling off this runway trend is by knowing the best heel and sock pairings. It's always best to pair a thin pair of socks with classic pumps, ankle-straps and T-straps as it leaves you with a classic chic look.
Thicker knit socks looks great when paired with boots, pumps and thick heeled loafers. If you're looking to wear lace and embroidered socks then we suggest you pair them with a basic heel that will draw all the attention to your eye catching stockings.
You can start small by selecting socks that match your shoe colour. You don't want them to completely match but keep the hues fairly similar. A polished heel will look great when paired with cotton socks.
Have a fun day out planned? You can pair your solid coloured heel or boot with a funky patterned pair of socks: stripes, polka dots, Aztec prints or whatever your inner fashionista desires. This helps tone down the prints and give you a chicer look.
Want to level up? If you're feeling bold and adventurous, you can put on a pair of socks with frills or sparkles, or fishnet socks to ramp up the look. Playing with textures can change the look of your footwear entirely. After all, this sock and heel trend is about embracing fun and eccentricity.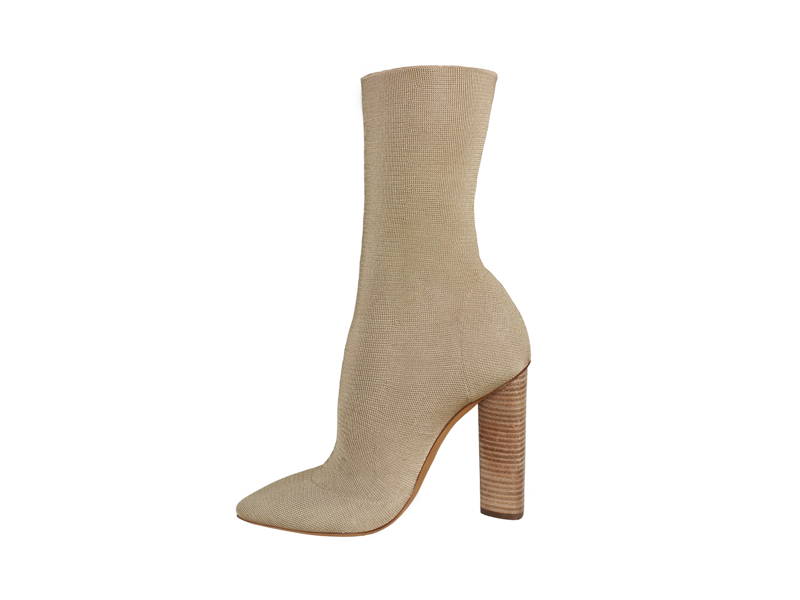 We can't talk about heels and socks without throwing this one in there. Yeezy footwear seems to be everywhere but anyone who has tried to purchase a pair will tell you how trying of a task that is. Not only do you have to fork out four figure sums, but you also have to wait in absurd queues.
You can skip all that and try this ingenious hack and make your own pair of Yeezy Women's Low Knit Boots. All you need is a pointed-toe stiletto and a knit sock in a matching hue. A little snip here and a little tug there and you're good to go. Just check out this easy step-by-step tutorial and you can be strutting like Kylie Jenner in no time!
Why you should care
Because somehow, this combo works.