Why you should care
We pit salon and home equivalents of this hair treatment to find out which one is worth your time and money.
If you've got dry and brittle hair from hair colouring or styling, you've probably had your hair stylist recommend a keratin treatment. "Kera-what?", you ask.
Your hair is made out of keratin, a protein which you lose from heat and chemical damage. The loss of protein makes your hair more porous, frizzy, and unruly. Keratin treatments replenish that loss of protein, strengthening and smoothening your strands.
You can get in-salon keratin treatments which can be quite costly or opt for home treatments. So are salon keratin treatments worth their hefty price tag, or will home treatments do? Read on to see if we're #teamsalon or #teamhome.
You can find keratin treatments at pharmacies, like L'Oreal Paris' ELSEVE Mask Keratin Smooth for RM29 at most pharmacies in Malaysia. This jar gives you at least 5 applications, depending on how long or thick your hair is.
Professional haircare equivalents like L'Oreal Professionnel Absolut Repair Lipidium Mask will cost you RM60 – RM90 (at Shins outlets).
Meanwhile, salon treatments will cost you anywhere between RM300 to RM1000. Of course, extra tools and steps are involved in salon treatments, which also offer longer lasting effect (see point 5). But on a one-off basis, home treatments are more cost effective.
It's a lot easier to go to the salon and relax while someone does your hair for you. Plus, you'll get all that extra gossip magazine and chit chat time. Although not every salon offers keratin treatments, there should be one located close enough to where you live – do a Google search!
Home keratin masks typically instruct you to leave the solution on for 1- 15 minutes. Some at-home treatments also require you to flat-iron your hair after applying the mask to seal the protein bonds with the existing keratin in your hair. This might take you another 15 minutes, depending on hair length.
On the other hand, salon keratin treatments could take you about 3 hours. Having said that, salon treatments typically include a hooded-dryer (the big round machine that hovers over your head) or flat iron step which improves efficacy.
Salon treatments have the greatest long-term effect of smoothening and moisturising your hair. Salons use heat hooded-dryers and professional flat irons to seal the keratin into your hair, so that keratin solutions reintegrate into the chemical bonds of the hair.
Plus, since a professional is doing it for you, they tend to be more careful, combing the solution into every inch and section of your hair. In salon treatments work better, and for longer.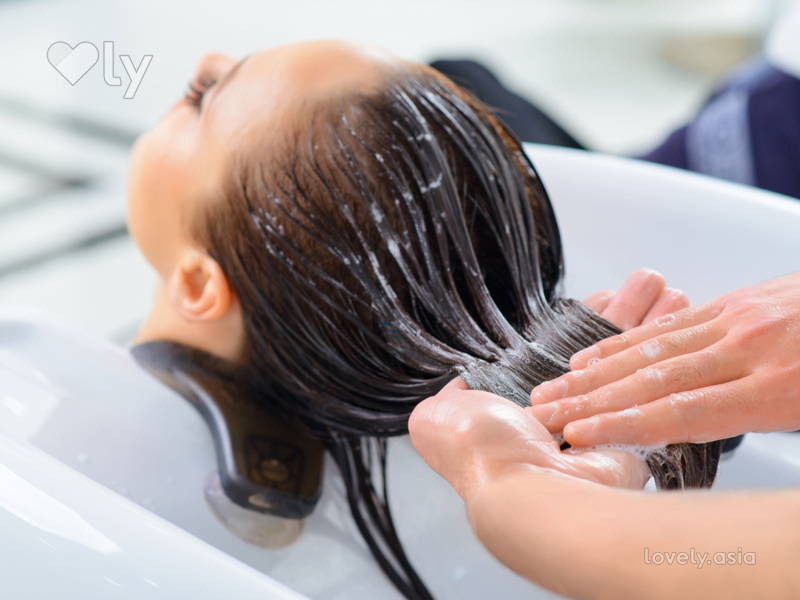 Having said, the effects typically last for up to 6 weeks, so you'd have to revisit for another treatment. The catch-22 is that you shouldn't do more than 3 salon hair treatments per year, due to possible heat damage from the hooded dryers.
Effectively, this means you can only have keratin-treated hair 18 weeks in a year, which might not be the case if you use home treatments every week.
At-home treatments, on the other hand, mostly require no flat-ironing. The heatless application of the keratin in these formulas is less harmful, but only serves to penetrate the outside layers of your hair, and doesn't change the chemical bonds in your hair, resulting in lower efficacy.
Because of the short-term nature of these formulas, user reviews of at-home keratin treatments and the manufacturers of these treatments attest that smoothing hair treatments don't normally last for more than a week (the ELSEVE treatment only lasts for 3 days.
So, are we #teamhome or #teamsalon?
It all depends on your hair type.
The best suggestion would be to assess your hair condition. If your hair is terribly damaged, get a salon fix. Invest in a one-time salon treatment to see if it'll improve the quality of your hair. Look for a salon that offers the treatment with a heatless flat iron. That way, you'll get none of the heat damage.
On the other hand, if your hair is dry, but still manageable, stick to home treatments. They're just cheaper and faster!
Why you should care
We pit salon and home equivalents of this hair treatment to find out which one is worth your time and money.