Why you should care
Tandoori chicken over chicken korma and other healthier options you can indulge in at family reunion dinners.
This season is filled with weddings and family affair like Deepavali, Thanksgiving, and even Halloween parties. So how do you avoid the inevitable binging?
Because prevention is better than cure, we show you how to make smarter food choices at large dinner spreads so you won't find yourself trying to work off those 23 slices of brownie come January.
Opt for salads and clear broth-based soups as a starter. While curry puffs, samosas, and deep fried drummets are tempting, you don't want to squander your calorie quota so early in the day.
Salads can be fun too, opt for sweet veggies like sweet potato or pumpkin to fulfil your sugar cravings and croutons for crunch. Skip creamy salad dressings like Thousand Island and mayo. Instead, choose vinaigrettes or a balsamic-vinegar-olive-oil combo. Make your healthy food choices count – don't eat salads only to drown them in high fat dressings.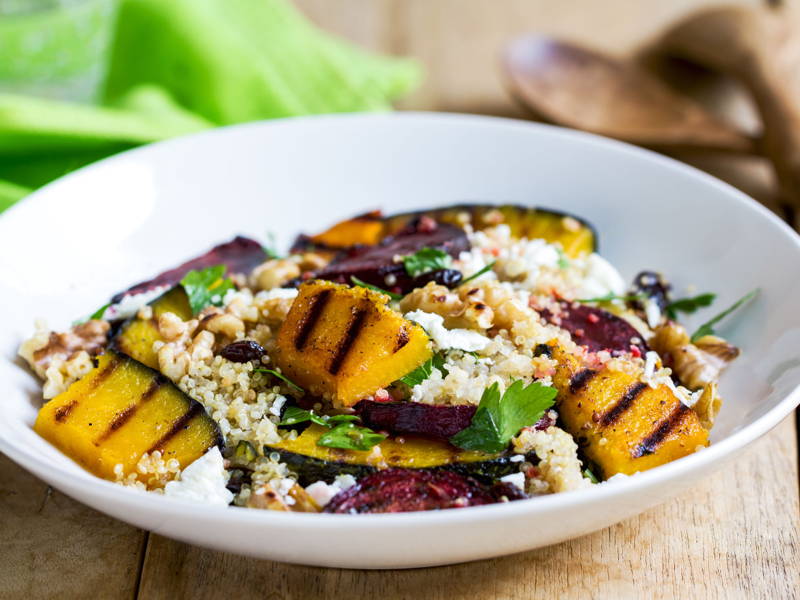 If you prefer a hot food, then go with a clear, cream-free one like chicken soup. Starting with a soup fills your tummy, decreasing your tendency to overeat.
Go ahead and munch on a few pieces of papadums. But eat them plain or dip them in raita as the cucumber and yoghurt based dip is a much lower calorie option than curries and creamy masala.
Resist the bread and butter starter because let's face it, in the grand scheme of things (tandoori chicken, baked turkey, and chocolate cupcakes), it's lame. You're better off saving those calories for a bowl of rice which has similar calories and minimal fat.
Portioning is key for your entree, not deprivation! A good guide for a well-balanced meal is half plate of vegetables and quarter plate of carbohydrates and protein each.  Filling your plate with vegetables first leaves less room for overindulgence.
Stay away from dishes like creamed cauliflower and opt instead for grilled veggies. Instead of cauliflower pakora (deep fried and battered), savour the veggie in a milder, but no less tasty form, aloo gobi which is cooked with healthful spices without the fat from the batter and oil.
Look out for leaner meats (e.g. chicken, turkey, and fish) which are grilled or baked. If you cannot resist a piece of fried chicken, then limit yourself to just the one and choose breast meat which has lower fat content. Eating your proteins more mindfully will also save you a calorie here and there, which can add up. So remove any visible fat before chowing down.
Processed and cured meats like nuggets and ham are yummy, but contain a lot of sodium, the devilishly delicious ingredient that make food bumps. Instead of those, favour dishes that are freshly and more simply prepared. Remember to avoid creamy sauces or gravies here too. The lighter or clearer the sauce, the less calorific it likely is.
Instead of curries, opt for tandoori chicken or lamb kebabs. Those have similar spice pay-offs without fattening coconut milk or ghee. As for non-meat proteins, we love palak paneer. Using spinach which is high in iron for the sauce and cottage cheese which is high in calcium, this dish is a wise option. If you're watching your weight though, limit your cottage cheese pieces.
Breads like naan and roti canai have high carb content which you might not be able to burn off. If you want, grab a piece, but eat it plain or with lighter dips like the high-protein dahl or low-fat raita instead of high fat mutton curry or chicken korma.
If the pasta, fried rice, or briyani look too good to resist, then don't! Just eat smaller portions of them – as a rough guide, a fist-size serving in total.
Healthier carb options are high fibre ones like potatoes. Baked potatoes are as yummy as mash potatoes with less salt, cream, and butter. Yum without the tum? Yes, please.
While it's important to make better food choices, it's also important to treat yourself because restricting yourself too much might backfire and cause you to binge on entire pints of ice cream. It's a slippery slope.
So munch on desserts, but do it in moderation! Pick the few that you must have, then have small spoonfuls or slices of them. Sharing your desserts helps you enjoy the variety without overeating all that sugar.
As a guide, fruit-based desserts are always better, like a fruit tart as opposed to a chocolate one. Instead of a sweet dessert like gulab jamun or coconut ladu with high sugar content, cleanse your palette with a tangy and delicious rasam.  
Sodas, alcohol, and sweet teas are the most cunning vehicles of sugar and carbohydrates. Save your precious calories and sugar quota on food by drinking plain water.
If you're not a fan of plain water (a whole other monster that begs discussion), then go for unsweetened tea or coffee.
Why you should care
Tandoori chicken over chicken korma and other healthier options you can indulge in at family reunion dinners.